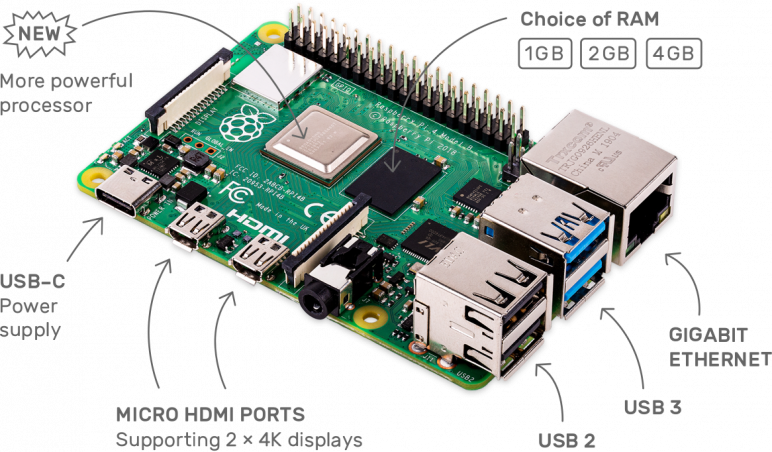 Raspberry Foundation has given a surprise by launching better and faster Raspberry Pi 4 Model B. And this time the new credit-card-sized single-board computer is more powerful than ever.
For the starters, new Raspberry Pi 4 will be having more processing power with 3x faster CPU, up to 4GB of RAM, and dual 4K display output.
New Pi 4 is completely upgraded, re-engineered, faster, and more powerful. It seems like this tiny credit card size computer is going to attract students and Pi enthusiasts again.
So let's see what major upgrades the new Raspberry Pi 4 brings to the table and I'm sure you will be blown away after seeing these crazy specs.
This Pi got 3x faster CPU:
Raspberry Pi's fourth iteration comes with BCM2711 Soc with a 64 bit quad-core ARM Cortex-A72 CPU running at 1.5GHz.
And if you compare this with the previous version of Pi then it is 3 times faster than Raspberry Pi 3 Model B+.
Choose between 1GB, 2GB or 4GB RAM
Now you will not be limited by the low memory limit of this credit card size computer. For the first time, Pi will come with 3 RAM varients 1GB, 2GB or 4GB. And RAM on new Raspberry Pi 4 will Low Power DDR4-2400 SDRAM.
More RAM will great for people who want to do more interesting Raspberry Pi projects which need more power.
More RAM comes with more price
Yes, different RAM models are priced differently with the lowest 1GB variant priced at $35, the 2GB model priced at $45, and the highest variant with 4GB will come for $55.
Dual 4K output for dual-screen setup
Great news for people who want to use the dual monitor with the Raspberry Pi 4 as now you have two video outputs provided by dual micro HDMI ports with 4K support. You can have 4K 60 frames per second on one channel or 4k 30 frames per second on multiple monitors.
I/O improvements in Raspberry Pi 4
In terms out input and output, upgraded Raspberry Pi 4 Model B gives you 4 USB ports with 2 USB 3.0 ports and 2 USB 2.0 ports.
For the first time, Pi is coming with Faster Gigabit Ethernet which can also provide power to the Pi. With up to 1000 Mbps speed, it will be great for people who are running Pi as data servers.
For the power connectivity, the new Raspberry Pi 4 will have USB C instead of USB B micro connector and this will provide more juice to the Pi as now we have a lot happening on that tiny board.
New Pi is packed with Bluetooth 5 (upgrade from Bluetooth 4.2) and WIFI with 2.4 GHz and 5.0 GHz.
With this, all new Raspberry Pi 4 Model B get ready to see more unique and powerful projects coming out in the future. Or maybe just replace your old desktop with this power-packed Raspberry Pi 4 computer.